On September 8, 2022, Quinte Smart Homes attended the CEDIA Tech summit to listen to other industry experts, see demos and network with local suppliers and dealers. It was a long but perfect day to immerse ourselves in all things smart technology and smart homes, our favourite thing to do!
About CEDIA
CEDIA is a global non-profit trade association with over 3,500 member companies that design, manufacture and install technology for the home. They are a leader in education for smart homes and provide publications, the latest research and guidelines for industry standards and best practices.
3 Key Trends From the Toronto CEDIA Summit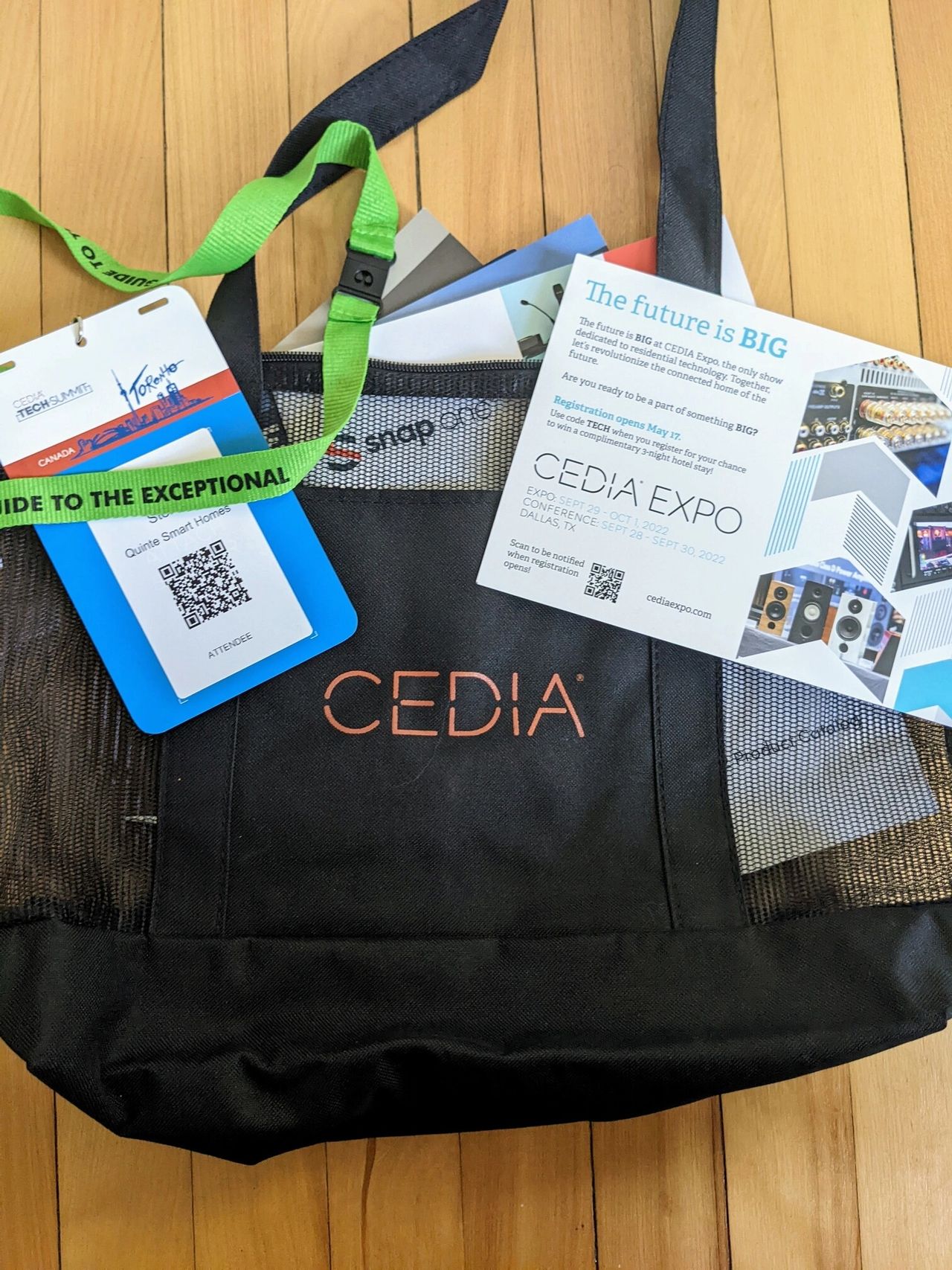 1. Human-Centric Lighting
Human-centric lighting uses light to mimic the sun's exposure to help improve a person's quality of life, sleep and mood. The future of smart lighting will elevate how homeowners experience light rather than passively using it as a means to see.
For example, smart light can now follow your circadian rhythm to create the perfect atmosphere. It will simulate full-spectrum sun in an office to help you stay focused and awake, and by the time 7 p.m. rolls around, it will reduce the brightness and change hues to create a calm and cozy fireplace feel. Lighting will adapt to your day just like the sun.
2. Smart Home Technician's Reliance On Electricians
With less copper to use in technology, smart products will need low-voltage wiring, and home construction will move towards low-voltage homes within the next ten years to reduce energy consumption. This means smart home technicians specializing in installing and setting up a smart home must partner with electricians to diagnose issues, provide suggestions and ensure all products work cohesively and safely.
With this in mind, Quinte Smart Homes is perfectly primed for this emerging trend and sets us apart because owner and smart home installer, Justin Davidson, is a master electrician and also owns Davidson Electrical Services. This blended expertise saves homeowners from investing in one smart home installer and one electrician to create their smart home, saving them time, money and a lot of headaches!
3. Build A Smart Home With A Smart Design
From the floor to the ceiling, smart homes can be designed to reduce the sight of bulky technology and equipment.
A key example we enjoyed was experiencing crystal clear audio from speakers hidden within the walls and invisible to their location. Another audio theme was removing noise pollution by isolating its transmittance with sound barriers within walls and doors. For those parents who want to enjoy an action movie at 8 p.m. but not wake up their children, this is a must!
Lighting is also a key trend about missed opportunities for great design. Specifically, less than two per cent of homes valued at $1 million and up are designed with proper lighting. Homeowners can use the expertise of smart home designers to determine the best lighting (static, incandescent, full spectrum, etc.), placement and knowledge of how they use their space to create a functional but highly beautiful room.
Convenience at Your Fingertips
If you're ready to make your home a smart home, give us a call or request a quote. We would love to work with you to create your smart, secure and beautiful home.
On The Road Next
Join us on the road as we attend the National CEDIA Expo 2022 in Dallas, Texas, from September 29 – October 1, 2022, as we continue to network with industry brands and learn about the best smart products. If you're there, drop us a line & let's connect!